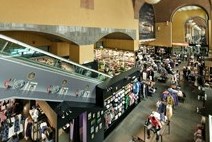 One of the most hilarious situations I have ever found myself in happened just a week ago in the Rome train station.
I had gone there, not to catch a train, but to do a little last-minute shopping at a well-known Italian department store that I knew had late night hours. I heard the "closing in 10 minutes" message and headed into a dressing room to try on a couple of dresses. And when I heard the "store is closed" message, I headed out of the dressing room within 1-2 minutes.
I walked from exit to exit to see which one they were letting folks out from and soon discovered that ALL the doors were locked and NO ONE was inside. No other shoppers. No store employees. Just me. Inside a now-dark Italian department store. With only my Italian mobile phone (on which I had only my Italian friends' contacts, none of whom answered my call).
Luckily, it was in a train station! There were people around! A young woman quizzically approached one door when I beckoned to her from inside the store. Ninety minutes, 4 police officers, 5 recalled store employees and countless bemused passersby LATER, I finally was free to go. OMG!
The only person who knew what was happening to me was my son in Los Angeles, whom I was amazingly able to call from my Italian mobile. He promptly posted my predicament to his Facebook page, asking "Why does she get to have all the fun?"
THE BIG TIP: This would have made a fantastic video. I could have at least gotten photos of my rescue party. BUT I DIDN'T HAVE MY IPHONE WITH ME. Whether you are traveling with your business or just heading to the grocery store at home, don't leave to go ANYWHERE without your smart phone. You never know what you might need to capture!