Linda Claire Puig, Founder & President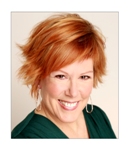 Linda Claire Puig is an internationally recognized marketing expert who helps solo-business owners develop profitable relationships and portable businesses that go with them wherever they want to go. Linda has taken her own business abroad for months at a time to locations that include a medieval-era Italian village, the grand cities of Paris and Rome, the Andean highlands of Ecuador, Bali, Australia, Prague, Lisbon and many more.
Linda's 6-Figure Newsletters division provides done-for-you newsletter articles and full-service nurture emails, while Adventurous Life organizes month-long trips to international destinations for travel-loving entrepreneurs ages 40+ to work, live and travel in community.
Linda is also an award-winning journalist and writer for the past 30 years, and her articles have appeared in newspapers, magazines and newsletters around the world.