When I came to live in Italy a couple of years ago, I had the choice of swapping homes in Viterbo, a small medieval town near Tuscany, or in Rome. At the time, I was certain Rome would be too big, too chaotic, TOO MUCH, so I chose Viterbo. But I ended up coming to Rome numerous times and totally fell in LOVE with it.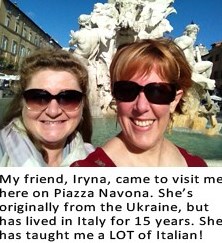 So I chose to start my journey this time here in this city I adore. As my plane came in for a landing, I really felt like I was coming home! And while having my first cup of oh-so-delicious Italian coffee, my eyes filled with tears of gratitude for this opportunity to live my love affair with Italy.
I'm staying in a flat near Piazza Navona…in a 15th century building. WHICH MEANS…no elevator. You should have seen me getting my luggage up four flights of stairs!
And there was no time to waste when I got in: I had to figure out my phone situation quickly so that I could conduct the first training call for my last offering of the 6-Figure Newsletter Secrets Virtual Intensive later the same evening I arrived!
I knew there was a landline here, but I also knew there was no international long distance. I was pretty sure I could figure it out by "game time," but I said little prayer for ease and speed as I set off in search of a phone card. Luckily, I found a tobacco shop just a short few minutes down the cobblestoned street. Yes, that's where you get phone cards!
All set? You bet!
I have so much more to share with you, but it'll have to wait. I gotta go get some pizza!
Oh wait…one more thing. Even though I have a lot of awesome experiences when traveling and living abroad with my business, I have to face fear every day. Little fears (they'll laugh at my bad Italian) and bigger fears (what if something bad happens to me while I'm here on my own). It's normal. AND I think it's actually good for me.
What fears do you face while traveling and living abroad with your business?