Sloppy wet dog kisses and a portable business.
Quite the diverse blog, eh?! As always, it's fun writing it for you…enjoy!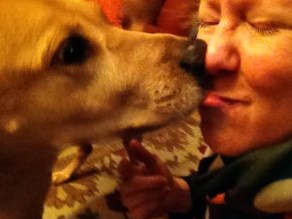 So the big news: I'm home! After 2.5 months "on the road" in Italy, Paris, Texas and South Carolina, I'm back in my own diggs, and look at the happy reception I got! (Boy, I had to wash my mouth after that hello!)
I love traveling more than anything but I do miss my sweet Tuki. Luckily I have a fantastic gal who watches my sweet pet while I am away so that I feel she is taken care of – and in return I can take care of myself, explore the world and grow my business from the road.
One of the most frequently asked questions I get is about what do you do with your pet(s) when you're away? Find someone who cares about your pet and is available to them (a housesitter, pet sitter, Nanna, Aunt, Sister, Friend – someone you trust) so you can truly enjoy where you are at in the moment.  One of my favorite moments in any trip is opening the door to my house upon my return and having my dog greet me. Oh happy day!
What have you done with your pets while you're on the road?